Beekeeping Equipment and Products
We sell all beekeeping equipment that is needed to keep bees.
Supers, foundation, inner and outer covers, hive tools, feeders, entrance reducers, queen excluders, etc.
---
Bee Jubilee Origiblend Honey Bee Feeding Stimulant, 16oz Bottle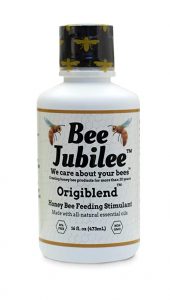 Bee Jubilee is a family-owned business dedicated to promoting the health and growth of the world's
honey bee population by providing premier products at affordable prices. Bee Jubilee Origiblend provides honey bees with the perfect blend of All-Natural Lemongrass and Spearmint as well as non-GMO Canola Oil in order to help promote hive health. Origiblend is made with a proprietary process that ensures it stays mixed, delivering critical essential oils evenly to honey bees throughout the hive.
Feeding Instructions: Add 1 tsp Origiblend per quart of syrup. Add 4 tsp Origiblend per gallon syrup. One 16 oz bottle of Origiblend makes up to 96 quarts of feed. At Bee Jubilee, we care about your bees.
Made in Connecticut!
About this item
Honey bee feeding supplement made with all-natural essential oils and non-GMO canola oil
Mix 1-2 teaspoons Origiblend with 1 quart syrup to feed and promote healthy hives
Helps support brood growth, spring build up and honey bee digestive health
BPA free opaque white bottle helps protect essential oils from damaging sunlight
Providing Beekeepers with premium bee feeding supplements at affordable prices
$25 for 16 oz bottle
Cash or check, Pick-up only
Call ahead
---
SuperDFM-HoneyBee
$20/ea Pickup Only/Call Ahead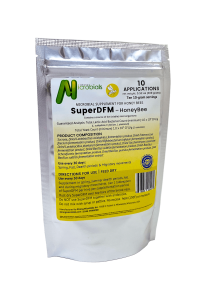 Contains a source of viable microorganisms
All-natural probiotic supplement for honey bees
Excellent digestive aid
Supports gut health
A wide array of lactic acid bacteria
Live yeast culture
Directions
FEED DRY
For best results, feed every month during the colony's active time.
Serve more frequently ( every 1-2 weeks) during spring buildup, nectar dearth, stress, and moving to a
new location.
Use 1 tablespoon per hive.
Dust dry SuperDFM over top bars of the brood nest.
Do NOT use SuperDFM together with antibiotics.
Do not mix with syrup or patties.
No excess heat (130F) or moisture.
$20/pack of ten treatments
Cash or check, Pick-up only
Call ahead
---
Formic Pro Strips
$20 Package of 2 doses
Cash or Check
Pickup Only/Call Ahead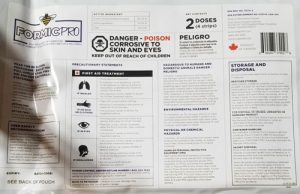 Package contains 2 doses of Formic Pro to treat Varroa Mites
Follow the directions on the package
---
Country Rubes Combo Bottom Board
$48/ea
Cash or Check
Pickup Only/Call Ahead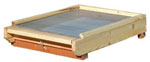 This Multi-Function IPM Screened Bottom Board makes hive management simple. It allows observation, choice of mite control program and ventilation all WITHOUT dismantling your hives. Features include: easy board access from the front or rear of the hive, rear smoke hole and rain guard, board placement over screen for fume type mitecides or hive warmth, deep captivity area under screen and a removable unbreakable easy clean plastic board. Ready to use- glued, stapled, screwed and boiled in a non-toxic paraffin/tree rosin solution. More details on their website CountryRubes.com
---
Sundance Bottom Mounted Pollen Trap
$75/ea
Cash or Check
Pickup Only/Call Ahead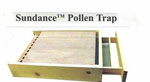 The best pollen trap made! It is bottom mounted, placed between the bottom board and the hive body. Trap opens from the back for easy collection of pollen. The tray has stainless steel wire, making for durability and good ventilation. It is not necessary to remove the unit to stop pollen collection. Just loosen the front I-bolt and move the front board. A protection barrier keeps the hive debris from contaminating the pollen, giving you clean pollen. Bees do not need to exit through the screen wire, with the 10 drone escapes available for easy passage.
---
---