Beekeeping Equipment and Products
The products with the "Add to Cart" option are available for online purchase and shipping.
---
Mite Away Quick Strips
$15/ea Pickup Only/Call Ahead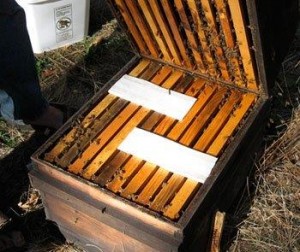 Package contains: 2 doses of Mite Away Quick Strips (MAQS) 4 strips.
****A NEW FORMULATION MITE-AWAY QUICK STRIPS (MAQS)
This is an organic, non-chemical treatment that is very effective on both varroa and tracheal mites. A special combination of formic acid and essential oils kills mites. All holes in the colony must be sealed except the bottom entrance must remain open. Treatment lasts for 21 days with the greatest "kill" occurring during the first 14 days.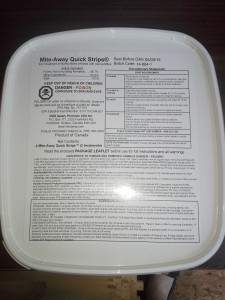 This is a temperature sensitive treatment. Ideal day time temps are 50 -80 degrees F. Temperature should not exceed 82 degrees F. or it may damage your bees. If that occurs, remove pads and store in original container until temps return within range. Follow safety precautions on label. You must use acid proof gloves at a minimum.
Pick up only, call ahead
---
Country Rubes Combo Bottom Board
$45/ea + $20 S/H= $65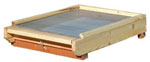 This Multi-Function IPM Screened Bottom Board makes hive management simple. It allows observation, choice of mite control program and ventilation all WITHOUT dismantling your hives. Features include: easy board access from the front or rear of the hive, rear smoke hole and rain guard, board placement over screen for fume type mitecides or hive warmth, deep captivity area under screen and a removable unbreakable easy clean plastic board. Ready to use- glued, stapled, screwed and boiled in a non-toxic paraffin/tree rosin solution. More details on their website CountryRubes.com
---
Sundance Bottom Mounted Pollen Trap
$75/ea + $20 S/H = $95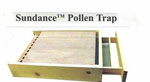 The best pollen trap made! It is bottom mounted, placed between the bottom board and the hive body. Trap opens from the back for easy collection of pollen. The tray has stainless steel wire, making for durability and good ventilation. It is not necessary to remove the unit to stop pollen collection. Just loosen the front I-bolt and move the front board. A protection barrier keeps the hive debris from contaminating the pollen, giving you clean pollen. Bees do not need to exit through the screen wire, with the 10 drone escapes available for easy passage.
---
Ross Round Section Comb Honey
$70/ea + $20 S/H = $90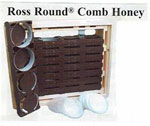 Fully assembled super that will make 32 sections of comb honey. This unit is complete with the 8 plastic frames, rings and support clips. Each frame has 2 halves which snap together. The foundation, sold separately, is placed between the 2 halves.
---
Covers
$43/100 covers + $20 S/H = $63
Each super requires a total of 64 covers. Most beekeepers use 1 opaque and 1 clear cover per comb section.
---
Rings
$25/100 + $20 S/H = $45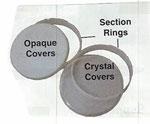 2 rings required per section
---
Three Beekeeping Classes on CD
Beekeeping 101, 201, 301
$20.00 + shipping
Dana Stahlman, Blacklick Ohio, Retired Beekeeper-Educator
This is a program for new beekeepers by an experienced beekeeper who also
worked as an educator. Stahlman was born into a commercial beekeeping family
in Ohio. He has packed a great deal of information onto this single disk.
Thin suplus wax foundation
10 sheets
2 lbs
$5.00 
Labels
100/roll
1 lb
$10.95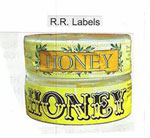 Modern label (green/yellow)
Traditional label (yellow/black)